When the world has gone to hell in a handbasket, we need cats, tradition and a few laughs. I always chuckle when I see vintage images of Easter witches flying comically on broomsticks with their cats. Seriously, it's a thing in Finland and Sweden.
Odin refused to wear bunny ears but posed (sort of) with my hand-painted Easter eggs. The great Easter Egg Hunt started off okay until it took a less eggcellent direction.
Odin looking so innocent while we know he is harboring murderous thoughts.
Sigh, the work involved getting one pretty pose, Odin was hellbent on finding the treats. When no more to be found, he took his hunting to the next level and knocked the basket over. Eggs rolled out which startled him and the hunt was over. No eggs were broken and a slightly miffed Odin wandered off to plan an attack on the stingy Easter Bunny.
Was it payback for this?
Smart Nou Nou stayed far away from the photoshoot. She is as reclusive as ever but much to my shock and delight found her lounging on the sofa last week. First time ever. She never ventures downstairs and then has taken over Clyde's old hideaway in a bookcase by the fireplace where mini-Domino lives. The mask is actually a corner of a heating pad. It goes to show you cats never fail to surprise us.
Happy Easter from our home to yours. We'd invite you inside but hey, social distancing.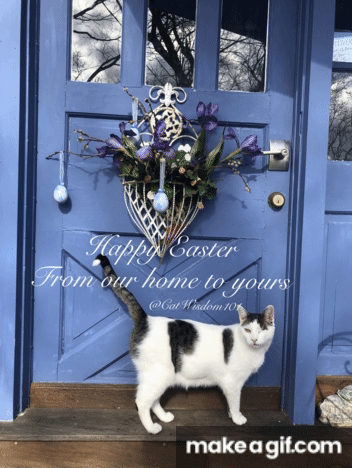 As much as I'm not into cats wearing costumes, I couldn't resist sharing a few Instagram kitties in their Easter finery.
 

 

View this post on Instagram

 
 

 

View this post on Instagram

 
Our friend Teddy was featured at our @blackcatsofIG Instagram for being a good sport. Odin, take note.
 

 

View this post on Instagram

 
 

 

View this post on Instagram

 
I hope the silliness brings smiles as we forge towards the merry month ( I hope) of May. Happy Easter!
Love, 
Layla, Odin, Nou Nou and Angels
P.S. Your moment of Zen. This is a screenshot from my camera roll. No editing of my annual ode to cherry blossoms. Each image is a high res. large file if I ever feel like editing. They speak to the ephemeral and transitory nature of life. This too shall pass. Enjoy whatever you can while you can. Find the small joys. They are everywhere when you have the curiosity of a cat.