New Black Cats Tell All Color 2018 Calendar 60% Off
New Black Cats Tell All Color 2018 Calendar 60% off. Today only! There will be other sales but no guarantee they will arrive before Christmas. This one has a windows theme of cats looking out of windows or the view of their world from South Africa to Norway and stops in the U.S. The back of the calendar includes bonus kitty pics NOT in the calendar. Actually with all the tech issues and revisions (hello, Mercury retrograde), I ended up including 24 or 25 cats. Don't ask. It's really fun and different is all I can say.
To preview the calendar inside out, click on the photo. Note: the images are low resolution. Apparently, people steal on Zazzle, well everywhere online which is why I'm religious about watermarks. I'm required to mention there are affiliate links to earn a few extra pennies for cats in need.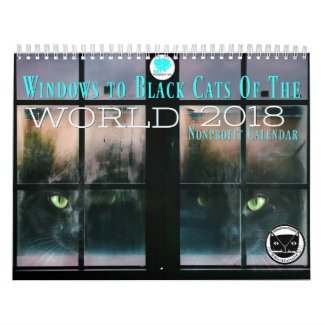 And our entirely different black and white calendar is also on sale
We have a
few other items
but use the discount code to create your own custom products. I've bought all kinds of cards and they turned out great. Happy shopping!
60% Off Greeting Cards, Invitations, Photocards & More – Use code: ZAZZLEDEAL60 – Starts: 12/05/2017 Expires: 12/07/2017 11:59 PM PST