Cyber Meow Monday Half Price Sale
Hello, cat lovers, it's your feline host, Clyde with our last post before December. This sale has ended. We have not promoted this shop to focus on our new MEOW MAGIC SHOP
Purrsonal cat news at the end. Are you all shopped out? I hope not because it you want to buy our calendar on sale, do it today. It's our Cyber Meow Monday Half Price Sale. We added inspiring quotes and showcased a few of our book contributors but also some cool new cats from around the globe.
SALE UPDATE: We had discounts from 60% to 50%. On Tuesday it dropped to 30%. It will likely go up but don't know when. I will update as soon as I hear. Meanwhile, if you like stickers and other products (not ours) they are 65% off today.
This sale is only at our new Black Cats Tell All shop on Zazzle. Their discounts during the holiday season are too good too miss. Both our shops will be integrated but until then, to buy the calendar, click on our affiliate discount link BlackCatsTellAll The code is ZCYBERMONDAY for 50% off!
If you feel like other shopping, click on the ad to shop with discounts already added.
I modeled for our new holiday card and other cards. I may have to ask for my own business card soon!
Layla bought a bunch of stuff but nothing for me. Hmmmf.
Sale details:
70% off select business cards
60% off postcards, greeting cards, photo blocks
50% off calendars, canvas, coasters, labels, magnets, posters, stickers
40% off binders, business cards, fleece blankets, hats, leggings, ornaments, paper napkins, pillows, rubber stamps, snow globes, stockings, tree skirts
25% off sitewide
The heavy duty shock-proof iPhone cases are 50% off today. This is ours but I wanted my face on it. Would you have your cat's face on a phone case?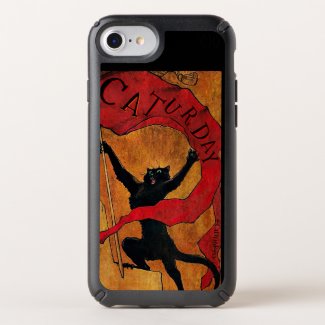 Gift Guides who featured our book:
Personally, I'm happy to supervise Layla packing up endless copies of books to contributors, supporters and media by hand. I offered to write notes but she said no. It will feel good to begin the new year with all the book loose ends tied up.
If you're thinking of placing a wholesale bulk order (minimum 15 books) of our book for fundraisers or gifts, please order by Dec. 7 to assure delivery before the Dec. 25th.
Questions? Message us @catwisdom101. If you call Layla, you're very likely going to hear me. She's always on speaker and I always have something to say. Today it's buy, buy, buy.
We're all feeling winter sniffly and maybe it's because we're getting older, Odin and Domino are hardly spending time outdoors. This is a first. Even Merlin enjoyed going outdoors at age 21. Mind you wrapped in a blankie.
Hammock time is definitely over and Layla is in hibernation mode saying this is the last winter she wants to spend in New York. Nou Nou's eye responded to treatment until it didn't. She's a whack-a-mole of health issues but in good spirits. Her new thing is making biscuits on our dad's chest at 5 am which happens to be my first breakfast hour. Ah, the joys of being a CKD diabetic kitty fed on demand.
Odin is finding new ways of amusing himself although Layla didn't think it amusing when he jumped into a big box containing her mom's ashes. Or playing slip and slide on the edge of the clawfoot tub while the human soak and watch Netflix. I, of course would never behave so foolishly.
Mood alert!

A super full moon called the "Cold Full Moon" is on Dec. 3. If you're sensitive like us, you may already be feeling it. Best to chill and not take anyone too seriously. Also, Mercury goes retrograde. (Good advice as always from Dark Pixie Astrology)

on the same day but apparently the delays, mangled communication and tech woes have already started. That means the remainder of the holiday season will be taxing our patience more than usual. Expect more travel delays and wonky everything. I'll do a holiday tarot report in December.
Have a good week everyone,
Much love, Clyde