This just in. Yours truly, Clyde, a very black cat and feline editor reporting with a scoop today from Kenya. Tuka, a Kenyon news platform raised my hackles about black cat superstitions. The photo is not the cat in Kenya but me ready for yoga. Downward dog anyone?
Numerous stories of black cats in unexpected places from baseball fields to fashion shows go viral. The stories are met with humor and delight even if you're not a cat lover. That's not the case in here. The story had no photo of the cat or video but dozens of other outlets like the Kenyan Daily Post quickly picked the story and published a video. A thin, black cat is seen slinking away at the two minute mark in the video.
During a session of the National Assembly in Kenya, Suba North MP Millie Odhiambo, informed Jessic Mbalu, speaker of the day, "I'm worried there is a stranger in the House, we are just hearing sounds of a cat but cannot see it. That is more worrisome because it can be a spirit and that means the House should be evacuated with immediate effect."
Cats, spirits, evacuated? Is this the Dark Ages?
Millie Odhiambo continued, "Chair, there it is. There is a black cat over there. It is even worrisome it is a black cat. We need spiritual leaders for cleansing in this House".
I'll say it's worrisome. For the cat. I'd like to do some cleansing of someone's mouth or shampoo superstitions right out of her brain. Watch the video. Her fear is palpable and devoid of logic. Superstitions feed on fear.
The Majority Leader Aden Duale, took to the floor and joked, "There is no cause for alarm as the Parliament is a House of the people thus anyone including wild animals can do the oversight. This cat represents a section of Kenyans and I think we can continue. You don't need to chase but feed it. This cat was here yesterday. You don't play around with a black cat, I'm sure the people from the Coast can tell us more."
I'm not familiar how people from the Coast feel about messing with black cats but Africa is deeply steeped in superstitions. In the end, it was ruled the cat be removed from the chamber. How it was removed and what happened is unknown. It's unclear whether this cat was a pet or homeless. I'm guessing homeless. Needless to say the cat wasn't wearing ID.
The cultural chasm feels worlds apart and I'm trying hard not to judge.
I see this event as a teachable moment in the vein of this Gandhi quote.
"The greatness of a nation and its moral progress can be judged by the way its animals are treated."
It's hard to take news stories like this seriously when Tuka media publishes headlines like: Millie Odhiambo is The Most Attractive Female Politician but it's clear besides sexism, black cat superstition is alive and well in Africa.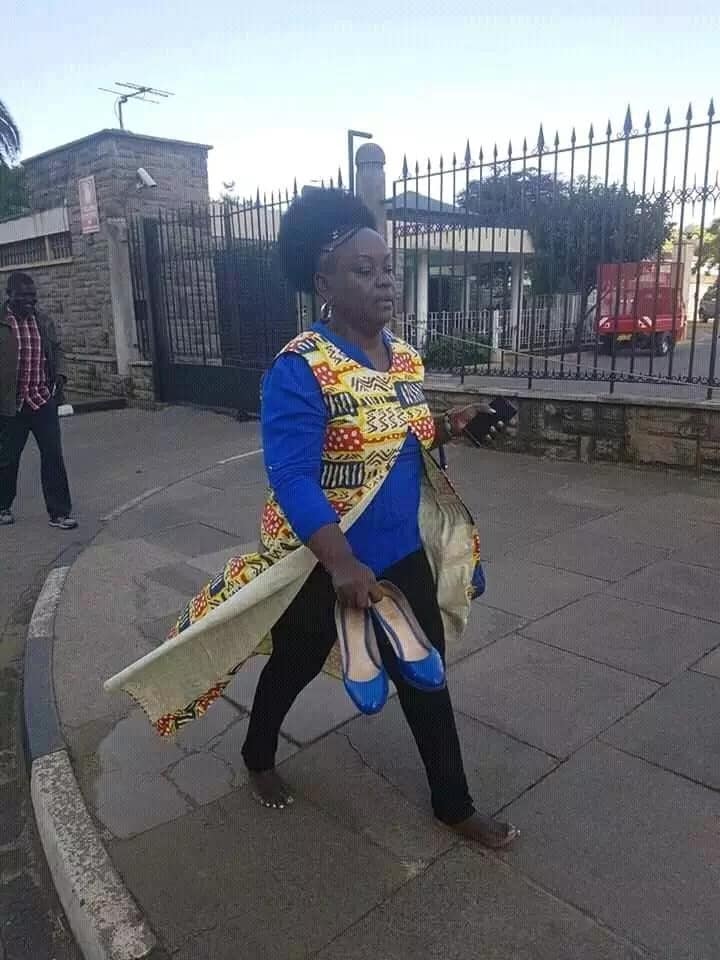 Millie, the MP who marches to the beat of a different drummer.
I confess I've never read until today, any news from media outlets in Kenya or other African nations except Egypt and South Africa. Patronizing nuggets ripped from the Tuka headlines include:
"Millie is known for her indisputable wits and uncensored sentiment."
"Millie is a hot woman who knows her stuff. "
"The legislator takes on her male counterparts through social media and always insists on how she cannot be intimidated."
As we all know, the Suba MP graduated top of her class at the University of Nairobi and is without a doubt an intelligent woman."
Perhaps the intelligent firebrand politician can tell us why cat parts are sold as talismans or why black cats command higher prices because of their magical power. I'd say the chances of Millie adopting the mini-panther intruder are slim to none.
I'd like to tell Millie, there is nothing to be afraid of. Black cats like me bring joy while alive and from not dead bits for magic spells or Voodoo. If I had a mean bone in my body, I might say those who are mean to cats will come back as mice in their next life.
This heartbreaking story shows a salesman in Africa bicycling 100 km to sell a cage crammed with kittens to sell at market. I feel sorry for the salesman but sorrier for the cats who were unlikely to survive a 100 km journey on a bicycle and then what? People, we don't need to live this way.
HOPE at the end of a very dark tunnel?
On a positive note, there is an African version of ASPCA called KSPCA working hard to change die-hard superstitions. To my surprise, they had already posted about my work last month during Black Cat Awareness Month.
The silver lining to the black cat drama in parliament, is the KSPCA article is coming up strong in the Google search results.
Sadly, they had no black cats posted for adoption but there is Bella, a one-year-old tortie, spayed and looking for a home. Just when I thought we were making a tiny dent into the cause, I realize superstitions are winning, for now. But I believe in magic and miracles and one day silly superstitions will go bye bye like the Dodo. Until then, we must keep fighting. All lives matter.
PLEASE share this post and consider buying our Black Cat Tell All book which is a bright spot for black cats around the world. Its a purrfect gift that will arrive in time for Christmas, if you order today.
What's ironic is over 100 years ago, long before Photoshop and crazy cat ladies on the Internet, this cute postcard was sold in France. We gave it une petite facelift.
Porte bonheure means lucky charm in French. I know I'm a very lucky black cat indeed and full time lucky charm. I think the caption: I'm wild about black cats is fun but we ended up adding Je suis fou de chat noir or I'm crazy about black cats. Which caption do you like best or what else could it say?
Love Clyde
Thanks a bunch. May your week bring more purrs than hisses.