The Art of Kindness is Color Blind: Black Cats Count
Kindness is a lifestyle we learn at home. Kids can be cruel: teasing, throwing rocks at cats or worse. Kindness is contagious and kids quickly learn what is acceptable behavior by observing the world around them. Little boys often get a bad rap for animal cruelty but for every bad apple there's many more who love and not hate cats. I love this vintage photo of a boy and his black cat who doesn't need convincing how wonderful black cats are!
If you've been following our black cat awareness series, you'll know we've been helping Mid-Hudson Animal Aid, a shelter north of us in Beacon, N.Y which needed to evacuate 150+ cats recently after a tragic fire. Their October Newsletter is tribute to the kindness of strangers and community. It memorializes the eight cats who lost their lives and the power of kindness or evil. If you read nothing else, please read the story of Atlas a cat who couldn't catch a break but died a hero. Or the story about Phoenix, a little ginger tabby found in a gutter near death from kids throwing rocks but survived.
Our tale of two kitties spotlight is on two rescued black cats from Mid-Hudson who need forever homes. Many shelters do not adopt black cats before Halloween but it's okay to meet with them. Bashful is a handsome black cat. Look at those eyes! Rescued from a feral colony as kitten, he's come a long way and is very adoptable. Check him out in action in this short video clip.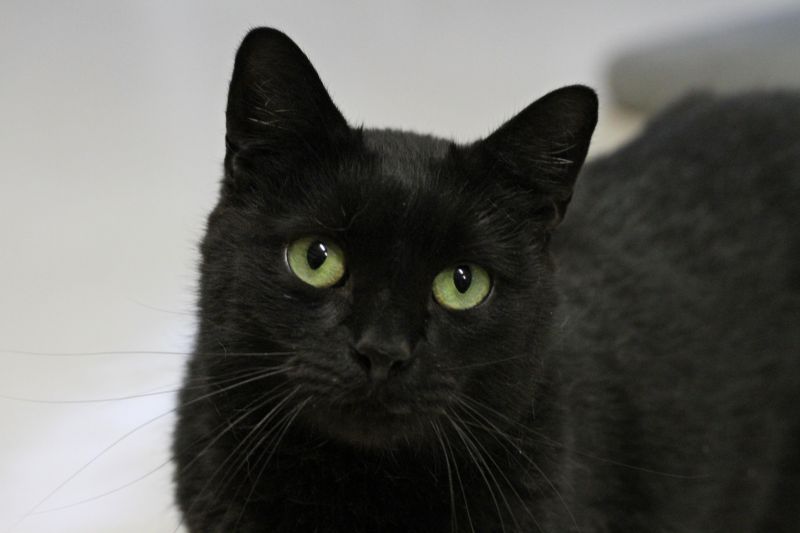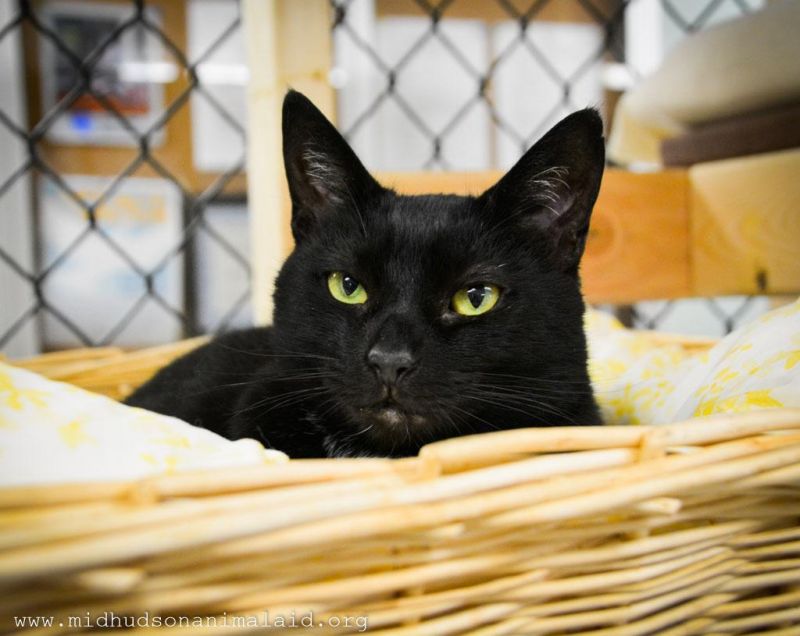 Meet Destiny. She's a tiny, affectionate gal who has only known shelter life since kittenhood, but hopes a forever home is her destiny. She's a bit shy at first and then warms up. To learn more about either of these black beauties, email [email protected]
OUR BLACK CAT AWARENESS SERIES CELEBRATES BLACK CATS WITH ART AND VINTAGE COLLECTIBLES.
A lucky black cat teapot dates for the 1950s. An adorable cat with goldfish are mid-century salt and pepper shakers. Black cats, long considered lucky have graced cards, postcards and ephemera of every kind since Victorian times. Black, white, orange, gray or brown, it doesn't matter what color cats are.
Let's be color blind in our love of cats no matter what their stripe.
Will you be the salt to my pepper? I spotted this cat in a parking lot where a limo driver petted it.