When cat adoption is not an option, there's fostering. The need is greatest during kitten season every spring. Our guest post today, Cat Fostering 101 is from a veteran cat foster expert who lives in a small town in Maine. Vet 101 will return next week.
My name is Connie and I have been fostering kittens since May of 2002. Shortly thereafter I started a blog about it and called it Tails from the Foster Kittens Since then I've fostered over 300 cats and kittens.
When people find out I foster, the #1 question is: How do you not keep them all? This is usually in conjunction with "I could never do that; I'd never want to give them back".  Each time I hear it I laugh. But you may be surprised how it is possible and maybe you can foster too.
        Fostering cats offers a break from being at a shelter
Step 1 – Find a local shelter or rescue group with a foster program. Sit down with the organization you want to foster for and see if it's a good fit for you.
Some organizations provide everything you and the kittens will need; all food, litter, toys, and medical treatment will be covered. Some organizations will cover medical needs but not day to day costs such as food, others do not have the resources do cover anything and you will be responsible for all care.
 It is important to know the shelter/rescue's policies and procedures. Since the kittens will still technically be property of the shelter/rescue, you need to know exactly what they require from you in cases of illness or emergency.
 Generally they will have a handout with what you need to know including emergency contact information, because inevitably something will go wrong in the middle of the night.
 Find out what they want from you and what you can provide. Some want you have a separate room for the kittens; some want you to have your own pets up to date on vaccines.
You will need to know what the procedures/policies are for finding the kittens homes.  Most shelter/rescues handle that internally and all you need to do is return them to the facility, but some require you to transport kittens to adoption events. i.e. I wanted to foster for one rescue, but I was unable to because at the time they did not have a facility to bring the kittens back to and I could not be available to transport them to events or wait until someone contacted them looking for kittens.Once you are comfortable with what the policies and procedures on paper, then comes meeting the kitties and taking them home.
Step 2 –  Bringing Foster Cat (s) Home
The foster program wants this to be a very positive experience for you so they will match up kittens in need with your comfort level.  New foster homes often get older kittens that are healthy and just need a few days to weeks to put on some weight.  If you are willing and there is one available, a pregnant cat or one with nursing kittens are often complication free fostering situations.  As you get more comfortable and experienced you might be willing to take younger orphaned kittens or even bottle babies. Kittens that are too young to be tested for disease are often the most vulnerable. Kitties that are already sick or suffering from illness or injury are the most complicated. If you ever feel you have taken on more than you can handle, they will happily provide guidance or even take the kittens back and find them a different foster situation.Bringing the kitties home, getting to know them and getting to play with them is always so much fun. I always recommend people isolate foster kittens from their resident cats for the entire time they are with you.  Kitties with an unknown history could be exposed to any number of illnesses that could be very harmful to your own cats.  It also helps cats, both in residence and those being fostered, that might be overly territorial and are upset that there are other cats in the house. There are people who never isolate and some that isolate for a short time and have done so for years and have not had a problem. Resident cats that are healthy and generally stress free often have a 'harder time' catching many of the illnesses common to stray cats, but there is still a risk if they have direct contact.  To be perfectly honest there are also a few illnesses that are transferred by indirect contact as well, but that is easier to mitigate when they are isolated and you employ some basic hygiene.  If you are aware of issues with your kittens, you can also insulate your cats from them by changing out your clothing after visiting the kittens.  I keep a smock available for when this happens and wear it over my clothing.  There is no 100% way to make sure your cats won't catch something, but just a few extra precautions will keep the risk pretty low.
 Step 3 – Foster Cat Care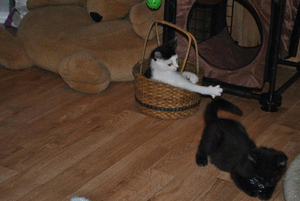 You will want to spend as much time with the kittens as you can, but there are going to be times when you just don't have two minutes to rub together. That is OK.  Remember if you are not fostering, chances are these kitties will be in a cage and getting very little attention. It is OK to just feed and do a quick cleaning if you are pressed for time.  I tend to spend just a few minutes in the morning and an hour in the evenings and more time during the weekend. Kittens generally sleep sixteen to eighteen hours a day.
I once set up a kitty-cam to watch the kittens while I was at work and I found they were awake in the early morning until breakfast, they fell asleep till about late afternoon when they would have their pre-dinner play time, dinner, post-dinner play time and then they go down for the night.  Cats are crepuscular so they are most active at twilight times, which make an AM and PM feeding schedule so easy to adopt.  It also makes it easier for you if you have a full time job to not worry about them so much as long as they are able to eat on their own.  Bottle babies, kittens who are not weaned but who do not have a mother with them do need to be tended to around the clock. Taking care of them is not difficult work, but it is a lot of work.
Lastly I find it to be very important to introduce the kittens to as many new experiences as possible (socialization). You will have them during a crucial window of learning in which it is easier for kittens to adapt to change and accept new things.
I have friend who fosters and she has a dog to introduce to them.
Kids are also great to play with the kittens to get them used to it.  I have neither, so I take my kittens out on trips out of the home.
If you have a friend you could visit, that would be easiest, but you could bring them back to the facility from time to time and ask the staff to handle them.
Bringing them in to be weighed might seem unnecessary, but it does help the kittens get used to different experiences; traveling, being in an unfamiliar environment, being handled by different people, being put in a weird situation (on the scale) and then safely returning to their safe room or nest will help them understand they don't have to fear new things.
The Downside to Fostering
There will be times that no matter what you do or try you a kitten will die. It is heart breaking and very hard on everyone.  When it happens to me, I remind myself that while the kitten's life was way too short it was full of love and it was cared for to the end of its life and that and your tears are the gift you were able to give.
After a few days or a few weeks, time has come and the kittens are healthy, at the weight specified by the shelter/rescue to be returned.  You are faced with having to return the kittens.  I am the first to admit that it is hard.  I failed to do it eight times (although in my defense that is only a 2% failure rate), and there have been many many more I wished I could have kept.
There are several factors that help you "put on your big boy or girl pants" and pack them up and wish them well.  When there are more than two to three kittens they become increasingly more difficult to take care of.  They are venturing into areas they haven't before, searching out new adventures. This is all well and good for them, but often we humans call it mischievous. They tend to be more destructive as well.  Paper towels cannot be left unattended.  Anything that can be knocked over will.
 I have been fostering for 11 years now and even I have yet to provide the kittens a room that is completely kitten proof.  Each batch of kittens finds new and inventive ways to get into trouble.  I often equate them to two year olds at a birthday party.  They are cute and adorable, but you are oh so ready for them to go.  Another foster home explained how she kept from keeping them by saying she equated what she feels for the kittens is akin to what a teacher would feel for her students.  You love them all, but you realize they are not yours and they were not meant to be.
When You Bond and Can't Let Go
There will inevitably be the time when you bond with one or a pair of kittens and you cannot stand to let them go.  When that happens to me I do an assessment of my household, my finances and what it will do to my resident cats.
 Do I have enough space to house additional cats? Do I have the financial means to care for another cat and any emergencies that might come along – as well as long term elder care in the years to come?  And what will the cats who already live there think?  I currently have the first two but the last one is the sticking point for me.  I know my current kitties would have a major re-adjustment period if I was to add another cat to my household and it would stress them out for quite some time.  It would not be fair to the kitten either to move into a household would be stressed by their introduction.
 Lastly, remind yourself that there are always more kittens that need help.  There will always be another batch of kittens that needs you.  Getting to know a new kitten is a wonderful diversion from missing the one that just left.
Fostering is an incredibly rewarding and fun. It is also an amazing learning experience.  I learned to give fluids, nurse neonatal kittens, assist in delivery, and even give a kitten an enema.  Fostering is also very much in need. Many shelters are bursting at the seams during kitten season in the spring and the more that can be fostered the better.
To find a shelter or rescue group near you with a foster program or more about fostering, Petfinders makes it easy. Have you fostered any cats?