Shelter Fire Survivors: Three Lucky Black Cats
Our Lucky Black Cat Adoption Campaign continues weekly until Halloween. By bringing awareness of how wonderful black cats are in words and art we hope to encourage more shelter adoptions of black cats. It's a mystery to those who adore black cats but they remain the least popular color at shelters.
The Mid-Hudson Animal Aid is a free-range, no-kill cat shelter in Beacon, New York, about an hour north of me. Like many small shelters, it does good work and doesn't get much press. That is, until a fire swept through recently and over 150 cats were evacuated. Sadly, eight cats died, several were hospitalized for smoke inhalation and several more escaped into the nearby woods. The rescued cats are scattered in foster homes from Albany to New York City where hopefully they can stay until the shelter is re-constructed. Needless to say, the loss is great and they could use help.
I reached out to my contacts at the always awesome World's Best Cat Litter and they are donating a pallet of cat litter. Celebrity cats LIL BUB and Henri have made donations. What I love about the cat lover community is how we rally in support no matter where we live.
Visit Mid-Hudson Animal Aid's Facebook page for all the updates. They also have an Amazon Wishlist  If you are interested in adopting, please EMAIL (their office and phone line are obviously  closed) info@midhudsonanimalaid.org

We're featuring some of the shelter's very lucky survivor black cats. Every cat has a story and I believe good can come out of a bad situation. When I asked the shelter director Audrey Lovato who were the top three black cats in most need of adoption, she didn't hesitate, "

Star, of course, Momma Bear and Zippy

.
Star is a young adult female who arrived at the shelter as a four month old kitten. She's still around because she's really shy. She's gentle, curious and likes people and other cats. Someone patient will be rewarded by allowing her to blossom naturally in her forever home.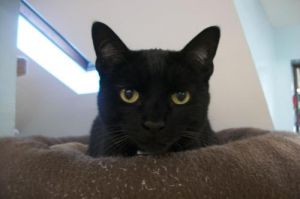 Momma Bear was a good good mom to her four kittens but now needs a home of her own. She is friendly, well socialized and likes humans, kids, other cats and dogs.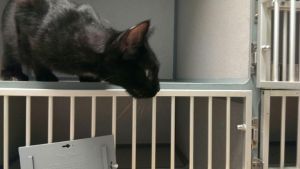 Zippy is a young male who got burned badly trying to crawl under a car to stay warm in the winter. He is shy but okay with a few people. He loves Fancy Feast beef and will need someone patient and willing to spent time allowing him to come out of his shell. He reminds me of how our Gris Gris and would thrive on lots of interactive play and love.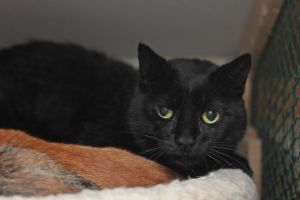 This week's lucky black cat art treasures include a fun, vintage cast iron doorstop, circa 1885 advertising poster, vintage figurine, fantasy statue, bookends, salt and pepper shakers, paintings, cameo necklace and vintage posters celebrate the beauty and charm and black cats.